[et_pb_section fb_built="1″ admin_label="section" _builder_version="3.0.47″][et_pb_row admin_label="row" _builder_version="3.0.47″ background_size="initial" background_position="top_left" background_repeat="repeat"][et_pb_column type="4_4″ _builder_version="3.0.47″ parallax="off" parallax_method="on"][et_pb_text admin_label="Text" _builder_version="3.0.47″ background_size="initial" background_position="top_left" background_repeat="repeat"]
Your Christmas Diary by Sophia's Diary
What's on over the festive period for families? What do we need? Here are some ideas:
Local events:
Todos Fundraiser
Help TODOS raise money for the homeless and visit their Christmas fundraising raising event. There will be cakes and crafts PLUS Elsa, Olaf, Santa and Rudulph will be there.
Saturday, 25th November, at the Market Place, Enfield! 9am – 4pm
https://www.facebook.com/events/1991498364456228/
Jack and The Beanstalk
Have you booked tickets yet? Oh no we haven't, oh yes we have!! Unmissable entertainment is guaranteed in a show packed with special effects, stunning costumes, beautiful scenery and, of course, lots of comedy that will have the whole family laughing along from beginning to end. Pantomime at its best!
23rd November – 31st December – Millfield Theatre
https://www.millfieldtheatre.co.uk/whats-on/jack-the-beanstalk-2017/
A trip to the theatre
Local family friendly shows include Rapunzel at The Chickenshed Theatre (22nd November – 6th January), and Christmas Tales at The Dugdale Centre (9th – 30th December) which younger children will love too.
https://www.chickenshed.org.uk/Event/rapunzel
https://www.chickenshed.org.uk/Event/christmas-tales-at-chickenshed
Christmas Market and Ice Skating at Lee Valley
There will be fun packed activities here for the whole family, such as, Ice Skating, Christmas Market, Fun Fair, and Santa's Grotto too
25th November – 24th December – Lee Valley White Water Centre
https://www.gowhitewater.co.uk/activities/christmas-ice-skating
Forty Hall Christmas Market
This will be festively decorated Hall and Outer Courtyard, where local artists and traders will be displaying their high quality and often handmade goods.
26th November 11am – 4pm – Forty Hall Estate
https://www.fortyhallestate.co.uk/whats-on/forty-hall-christmas-fair/
A Christmas Toddler Cooking Workshop
Crafty Chefs Toddler Cooking Workshops are getting all Christmassy on Wednesday 29th November 10AM & Thursday 30th November 1.30PM on the menu we have Mini Turkey Pies (please note there is no Friday class this week) The following week Wednesday 6th December 10AM & Friday 8th December 1.30PM on the menu we have Mince Pie Pops. Each week we make and bake a different recipe, along with having a snack & drink we read a story, taste and talk about the ingredients. We will be making some Christmas crafts while our bakes are cooking. £8 per child ~ Irkdale Avenue, EN1 4BD. Booking Essential, limited places. Contact ailsa@craftychefs.co.uk to book!
Baby's First Christmas Party
Take you baby to their first Christmas Party with Baby Sensory on 2nd December at the Quaker Meeting House in North Finchley http://www.babysensory.com/en/classdetails/muswell-hill or 9th December http://www.babysensory.com/en/classdetails/barnet
Asterakia Concert
Do something different and attend a Greek Concert with popular music class Asterakia. Proceeds will go to Andy's Wish to walk
Saturday 2nd December 3pm at St Katherines Greek Church
https://www.eventbrite.co.uk/e/asterakia-concert-tickets-39800678902
Parade of Light
This event is so unique and only on for one day so add it to your diary now. There will be so much on throughout the day including entertainment, a Live Band, Carol Singers, Stalls, Food, Fireworks, and of course Tree Lighting by The Mayor.
Sunday 3rd December 12pm -6pm – Enfield Town Market Square
https://www.enfieldfestivals.co.uk/whats-on/parade-of-light/
A Christmas Workshop for Children
Get ready for Christmas with a decoration making workshops! Traditional natural materials and beautiful embellishments will be used, to create unique hand-made decorations to keep or to give as gifts.
3rd December 11am & 1pm – Forty Hall
https://www.facebook.com/events/1982250285394333/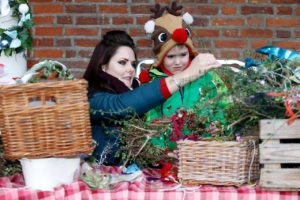 Christmas at Salisbury House
Meet local traders, enjoy seasonal refreshments, whilst the kids enjoy craft workshops at this lovely local event
8th – 10th December – Salisbury House
https://www.facebook.com/events/2010818169192220/
A Frozen Christmas Party
Fairy Tales Come True will take us on a magical adventure to Arendelle. Kids are guaranteed to have a good time playing games, listening to stories, musical statues and bubbles. Tickets are £10
10th December 10.30 – 12.30, Aroma Tea and Coffee House , 14 The Green N21 1AY
Book tickets at fairy.tales@hotmail.co.uk
Enfield Town Christmas Market
Meet Santa and his Elves in Enfield Market's Christmas Grotto. Children can post their letters to the North Pole in the reindeer postal service after they sit in the sleigh.
14th, 15th, 16th, 21st, 22nd and 23rd December – Enfield Town Market
http://www.enfieldmarket.co.uk/
A Princess Ball
Every little princess should go to the ball, and this year it should be Petal and Pinkys Christmas Ball. Magic, crafts, mini disco, bubbles and snow, Santa and there will be a special guest… A UNICORN!
Saturday 23rd December 2 – 4pm
https://www.tickettailor.com/all-tickets/35344/649f
Roller Skating Fun
Roller Station are having a Christmas Party on Saturday 23rd December 4pm-8pm adults £10; children £5 Family Tickets £25. A fun event for the whole family
https://www.sophias-diary.com/listing/roller-station-celebrate-on-wheels/
School Fayres:
Pop in and support your local school at visit their school fayre. Most will have stalls, entertainment and Christmas food too.
https://www.sophias-diary.com/childcare/
Our Top Picks for London Town:
London at Christmas
How lucky are we that we are just minutes away from Central London, one the best cities in the World? Family favourites include Winter Wonderland at Hyde Park, Winterville on Clapham Common, The Christmas Lights on Regents Street, Kew Gardens, South Bank, Carnaby Street, Harrods, and Hamleys. There are some fantastic shows such as The Snowman, A Christmas Carol and Dick Whittington to book too. Watch one of favourite Princesses perform on the Ice Rink at Cinderella on Ice. There will be magical story-telling and fantastic talent too.
Time to see Santa :
Visit Santa
Book Christmas Grotto early, the queues can be crazy. Many popular ones maybe full already so be organised. We are lucky to have one of the best, Christmas Wonderland at Springtime Nurseries of Crews Hill, on our doorstep. Pearsons, Van Hage and Santa Spectacular at Willows Farm are brilliant too. For a more personal experience, why not try breakfast of dinner with Santa. Wyevale Garden Centre and The Harvester are taking bookings.
Our Top Shopping Tips
Save money while you shop
Have you purchased the SOPHIA'S DIARY DISCOUNT CARD. There are over 50 local offers. What are you waiting for? www.sophias-diary.com/discounts
Are you a regular at M&S and Sainsbury's? Will you be buying toys from Toys R Us and Argos? Why not get cashback off your utility bills whilst you shop. Speak to Rikki to help you make these savings over the busiest shopping time ever
https://www.sophias-diary.com/listing/utility-warehouse-the-discount-club-byrikki/
Christmas Bears
Have you brought a Christmas bear. Reindeers, Penguins and Bears dresses as Santa are very popular. These will be great snuggling partners when the kids are in their Christmas Pyjamas at bed time
https://www.sophias-diary.com/listing/teddy-tastic/
Stockings and Sacks
If you fill up a Christmas Sack or stocking, it will be more special if it personalised for boys and girls. Robes, Baby Growes and bibs can alse be personalised too so write a cute Christmas message. https://www.sophias-diary.com/listing/bella-beau/
THE Christmas Day outfit
Order a special and stunning outfit or Christmas Day from a beautiful children's boutique. The photos will leave lasting and special memories so everybody needs to be looking their best.
https://www.sophias-diary.com/listing/bambino-couture/
Christmas Flowers
Flowers always give that extra stunning look to any home. Whether you are hosting, need a gift or would like wreath, our recommended florist Sue will do a provide you with bespoke and high quality flowers. Sue is also holding wreath, centre piece and mother and daughter workshops.
https://www.sophias-diary.com/listing/flowers-by-sk
Christmas Cakes
Food is what everyone looks forward to on Christmas Day. Big Cake Adventure and Rosewater Cake Designs can make the most delicious and lovely looking cakes so they will really impress your guests.
Mey also makes the most delicious homemade mince pies. Olympic Catering can also help with food orders too
https://www.sophias-diary.com/listing/big-cake-adventure/
https://www.sophias-diary.com/listing/rosewater-cake-design-bespoke-cake-maker/
https://www.facebook.com/personalisedcakesbymey/
https://www.sophias-diary.com/listing/olympic-caterng-catering-and-party-food/
Chocolate Treats
A chocolate wreath, Christmas Baubles filled with sweet treat, hot chocolate with reindeer theme and Santa's Milk Jars are just some of the things The Favour Godmother prepares for Christmas
https://www.facebook.com/maria.pomi1
Supermarket Deliveries
It is essential to book your delivery slot early to ensure you get a time that is suitable for you.
Tesco – Booking opens from 30th Novembers for deliveries after 20th December
Sainsbury's – they will take delivery up to 3 weeks in advance
Marks and Spencer – Last food order for Christmas will be on 15th December
Shop Local and go out local
Buy excellent quality food in bulk from the Fresh Trader in Enfield Town. It is such a good place to visit when planning for a big party . Hash Tag you have gorgeous accessories.
The Winchmore is a fabulous venue for Christmas food and drink. Discount Card Holders can enjoy a free hot drink when they spend over £5 at Tinker Tailor and The Plough is a good place to visit after seeing Santa at Springtime or having a walk in Crews Hill
https://www.sophias-diary.com/shopping-2/
https://www.sophias-diary.com/going-out/
The Little Extra's
Elf on the Shelf
How are you going to introduce this little guy that will make your kids giggle so much. Lasting memories will be made. There are many accessories in The Range, Poundland and The Works in Enfield. Elianna Event Décor has received many balloon orders for when he arrives too
https://www.sophias-diary.com/listing/elianna-event-decor/
Christmas Activities
Do you have a fully stocked craft cupboard, Christmas sticker or activity book, a gingerbread house making kit or Christmas cupcake decorating kit? These are all fabulous and cost effective ideas that can be done at home.
https://www.sophias-diary.com/listing/lindas-little-bookshop/
https://www.sophias-diary.com/listing/usborne-books-at-home-books/
Christmas Eve Box
Do you have your Christmas Pyjamas, Santa's Key, A Christmas DVD, Hot Chocolate Reindeers, Cookie Mixture and your Milk Bottle for Santa? Look at other ideas at Studio Jacqueline
A Christmas photoshoot
Whether you want pictures of the kids to send to the family, a family portrait or a Christmas Fantasy shoots for those special Christmas cards, a booking with your local photographer is recommended.
https://www.peterdyerphotos.com/christmas-fantasy-shoots/
A Special Appearance
Wouldn't it be magical if Santa, An Elf or a Princess turned up at your door? Neverland Event offer this personalised service.
https://www.sophias-diary.com/listing/neverlandevents/
Get your home ready
Does your house and garden look immaculate for the big day. Do you want to buy some unique furniture, watch anything you want on the Media Centre on Christmas Day, have an alarm and security cameras in the house when you are out the most and have spent so much on shopping. Have a chat with our recommended businesses for your requirements
https://www.sophias-diary.com/home-services/
Time for Mum:
Get in Shape
Christmas is a very social time and we will be going out more than usual. Instead of feeling guilty about eating those extra calories, try to burn them off instead
https://www.sophias-diary.com/health-fitness/
Healthy Eating Challenge
Challenge yourself to 4 weeks of exercise and healthy eating. Evolve will event help you to clear your kitchen cupboards of any junk food
https://www.instagram.com/jordangillfitness/
Pamper Time
Although it is a magical time of year, Christmas is so busy and there is so much to think about. Book your hair, nails and make-up appointments early. Treat yourself to a massage treatment. We have some lovely ladies that will even come to you. Gift vouchers are also excellent presents too. Studio Couture will also be doing eye make up on Friday 24th November
https://www.sophias-diary.com/hair-beauty/
What Next…
The week after Christmas
Plan something fun to do after Christmas there is not a big come down after the big day
https://www.sophias-diary.com/indoor-fun/
The New Year
And finally, don't forget to book something for after Christmas to avoid getting the January Blues. Books to see Platinum Performing Arts Urban Panto, Superheroes and The Lost Fairytale https://www.platinumperformingarts.co.uk/upcomingevents-home/2018/1/5/superheroes-and-the-lost-fairytale
And start thinking about your holiday too https://www.sophias-diary.com/listing/marios-constantas-travel-agent/
[/et_pb_text][/et_pb_column][/et_pb_row][/et_pb_section]