Tales & Planet Play on Tourat Chickenshed
Planet Play is a magical world of sensory learning, wonder and exploration.
Perfect for babies and toddlers aged 0-3 yrs.
Tales from the Shed are a vibrant, inclusive theatre shows that are perfect for 0-6 years.
Book below:
https://www.chickenshed.org.uk/Pages/Events/Category/tales-from-the-shed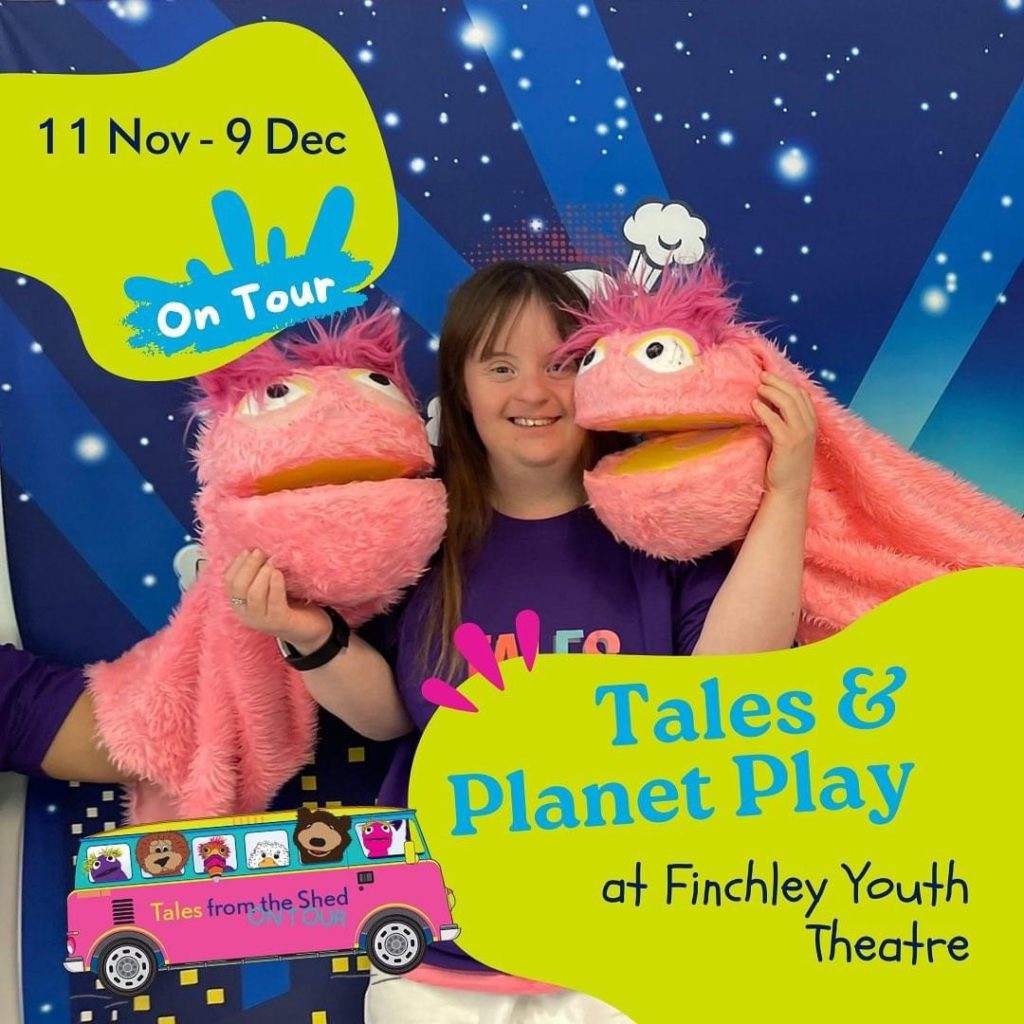 Jack at The Chickenshed 23rd NOVEMBER – 7th January
Jack! Playing is believing…
Meet Jack, the poor and disheartened character of our Christmas show, who – along with Jack's exasperated mother and bothersome sibling – lives in a tiny house, in a run-down seaside town. Bullied and outcast Jack takes refuge in arcade games, playing them every day on the paint-stripped pier.
One day, instead of just playing the video game, Jack becomes a part of it, suddenly lost within a magical world where some 'giant' challenges must be faced. With the help of some unusual characters, met along the way, Jack must overcome these trials to complete the levels of 'The Beanstalk'.
With a cast of over 200 people on stage for each performance filled with original music, stunning sets, and incredible design, we guarantee an unforgettable festive theatre experience for young and old alike!
Venue: Rayne Theatre, Chickenshed
Tickets: Tickets from £10
https://www.chickenshed.org.uk/Event/jack
The Eat & Drink Festival Christmas
Calling all foodies and cocktail lovers
The Eat & Drink Festival Christmas is back from 23 – 27th November 2022
at Olympia London
Prepare to enter a festive food wonderland and revel in the spirit of the season
https://olympia.london/whatson/eat-drink-festival-christmas-1
SNOW WHITE AND THE SEVEN SUPERHEROES at Millfield Theatre
TUESDAY 6TH – FRIDAY 30TH DECEMBER 2022
Mirror, mirror on the wall, which is the most magical Pantomime of them all?
Join Snow White and the Seven Superheroes on an amazing journey to reclaim her spot in the royal kingdom and defeat the wicked Queen once and for all!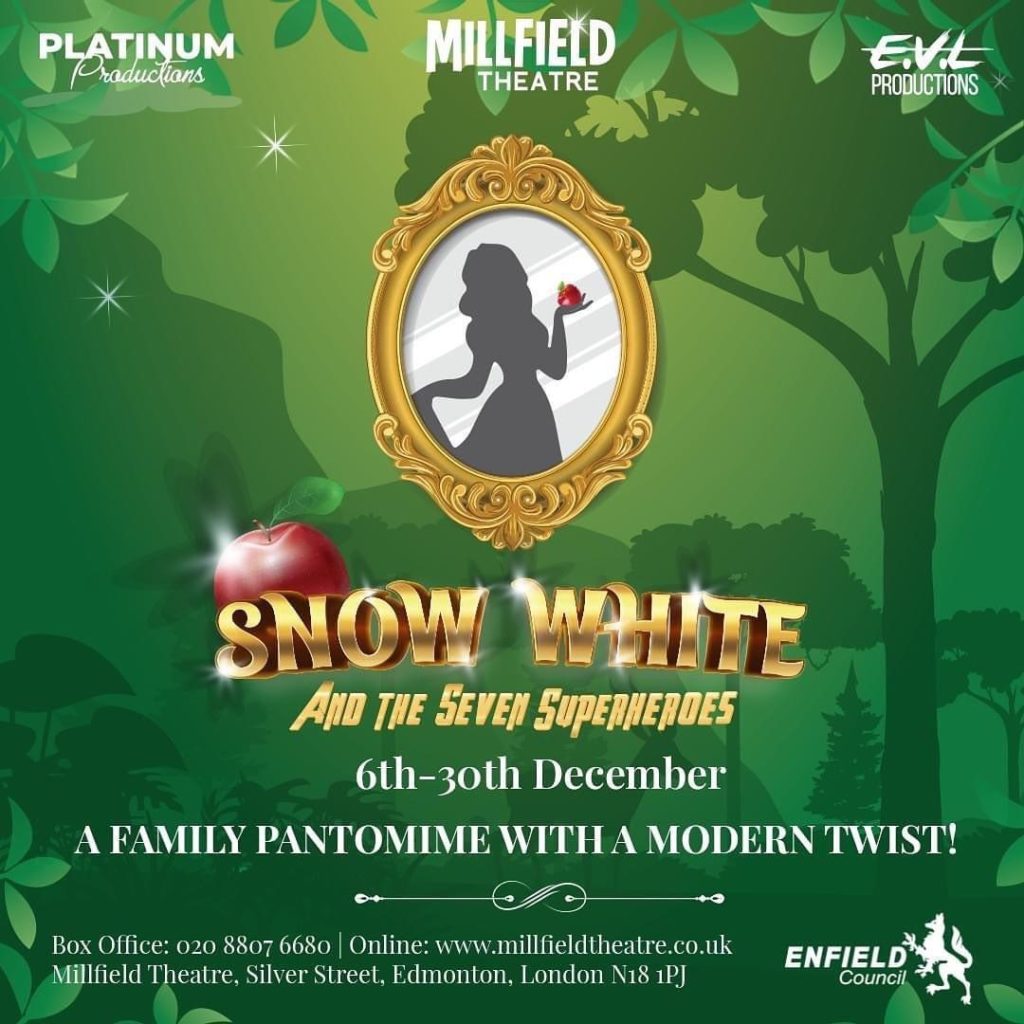 JTT Events Santa Grotto Experience
JTT Events are excited to announce its 2022 Santas Grotto Experience. This December, guests will have the opportunity to explore Myddleton House Gardens, where they'll be welcomed by mischievous elves who are up to no good! Help the little ones stop them as they try to steal Santa's naughty list! This festive experience will be an unforgettable memory for parents and their children and a great way to get together as a family, and will be sure to put a smile on everyone's faces!
This free entry Christmas market will be open from 10 am to 6 pm on Saturday 17th and Sunday 18th December 2022. There will be a variety of stalls selling all sorts of festive goods, and family fun activities. So mark the date in your diary, and join us for a weekend of Christmas fun!
LOCATION
Myddleton House Gardens, EN2 9HG
https://www.tickettailor.com/events/jttevents/775283/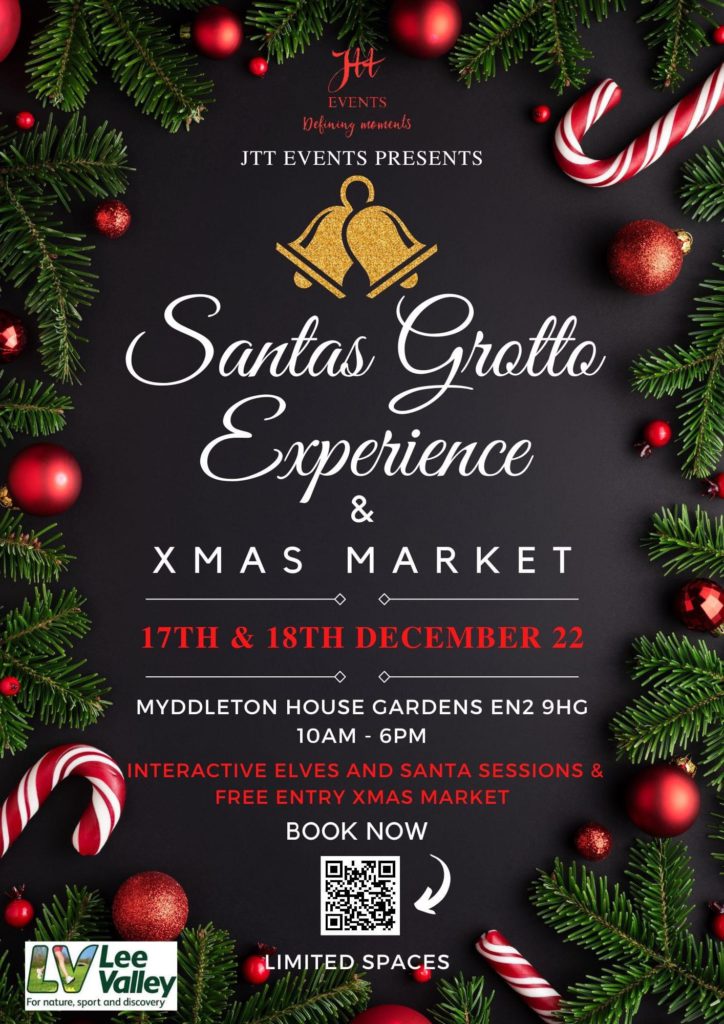 Christmas Fayre at Forty Hall
FRIDAY 25TH NOVEMBER 4PM TO 8PM
SATURDAY 26TH & SUNDAY 27TH NOVEMBER 11AM TO 4.00PM
Forty Hall, Forty Hill, Enfield, EN2 9HA
Visit a beautiful Christmas Fayre where there will be a stunning selection of creative stalls and sellers displayed in our beautiful period rooms and outside in the Historic Courtyard.
https://www.fortyhallestate.co.uk/whats-on/christmas-fayre-2022/
Sunday 11 December 11am – 4.30pm Christmas Market at the Plough Enfield. There will be over 30 stalls it's going to be fun and it'll definitely put you in the Christmas spirit.   The Plough – Enfield – Enfield is next to Winter Wonderland so you can combine your visit to Crews Hill.  Also Thompsons Of Crews Hill Ltd Christmas trees will be there.
BUGSY MALONE THE MUSICAL
From 3rd December
Alexandra Palace  London
https://www.boxoffice.co.uk/london/shows/26522-bugsy-malone-the-musical
Elf the musical
ELF is the funny and charming tale of Buddy, who mistakenly crawled into Santa's bag as a baby and was raised as an elf!
14 NOVEMBER 2022 – 7 JANUARY 2023
THE SMEDS AND THE SMOOS
https://www.artsdepot.co.uk/whats-on
From 5th December

SHREK THE MUSICAL
St Albans Theatre
From 15th November https://alban-arena.co.uk/events/shrek/
BEAUTY AND THE BEAST
The Dugdale Centre, Enfield
From 12th December
https://www.dugdalecentre.co.uk/whats-on

LITTLE WOMEN  THE MUSICAL
The Dugdale Centre, Enfield
From 16th December
https://www.dugdalecentre.co.uk/whats-on

DOMINION THEATRE
268-269 TOTTENHAM COURT RD, LONDON W1T 7AQ https://elflondon.com/?gclid=EAIaIQobChMIqOyG3-SR-wIVkM3tCh3pDw_6EAAYASAAEgKrbvD_BwE
Frozen at the Theatre Royal Drury Lane, Londo
Hogwarts in the Snow at Warner Brothers
12 November 2022 to 15 January 2023
London by Night with Christmas Lights
18 November 2022 to 2 January 2023
Departure Point: London Eye, Belvedere Road
https://tickets.london/gt2/timeslot/christmas-lights-london-by-night-tour/13?_ga=2.226624602.658149158.1667468875-70675061.1667468875
Christmas Eve tours in London
https://tickets.london/gt2/tour/the-total-london-experience-on-christmas-eve/188?_ga=2.193202154.658149158.1667468875-70675061.1667468875
Christmas Ice Skating in London
https://londonist.com/london/christmas-in-london/where-to-go-ice-skating-in-london-at-christmas
Christmas at Kew
16 November 2022 to 08 January 2023 at the Royal Botanical Gardens, Kew.
Winter Wonderland 2022 in Hyde Park 18 November 2022 to 02 January 2023
The Nutcracker at The London Coliseum 15 Dec-7 Jan.
Southbank Centre Winter Market
3 November -26 January
Covent Garden Christmas markets From 8 November
Leicester Square Christmas market 9 November – 8 January
Nutcracker
London Coliseum, London
From £18
https://www.londontheatredirect.com/booking/nutcracker-tickets/
The extras
Santa's home visit 22nd December 2022
Santas home visits are back this year for a limited time in Enfield and surrounding areas ( 5 miles radius from N21).
Santa will bring the magic of Xmas to your front door with a jingle and gift for all the good children on his list. Book now to avoid disappointment, Each visit will last about 20 minutes. (Visit includes a singalong, cracker and Photo opportunity )
https://www.tickettailor.com/checkout/view-event/id/1662383/chk/b963/?modal_widget=true&widget=true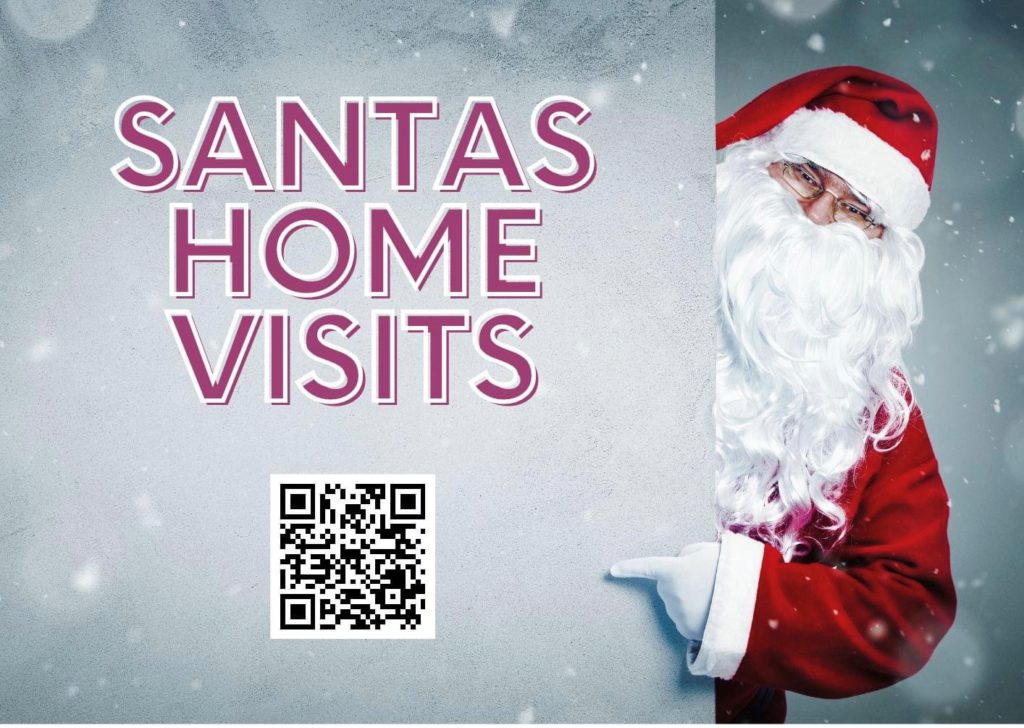 Letter from Santa
Ho,Ho,Ho, from the North Pole!
Is there anything better than a letter from Santa to say you're on The Good List?
The Nightingale Cancer Support Centre are working with Santa's Elves to spread Christmas joy to all the good little girls and boys with our Letters from the North Pole. Each letter is beautifully designed straight from Santa's busy workshop and is personalised to your child. Signed and sealed by Santa himself it's sent out via Prancer Post, complete with an Official Good List Certificate.
Don't worry, Santa doesn't write the same letter for children in the same household!
Head to their website today so Santa's letter arrives before Christmas: nightingalesupport.org.uk/northpole<http://nightingalesupport.org.uk/northpole>
£4.95 (including postage!)
S4K Winter Camps are back this December at various venues across North London.  
Come and join in with some Christmas Carnival Fun including; Snowball Dodgeball, Festive Arts & Crafts, Scooter Sleigh Races and North Pole Nerf!
Find your nearest venue and book now: www.sport4kids.biz/camps