Easter in Enfield
Is it nearly Easter Holidays? What's on for kids and families in Enfield? What are the best Easter Egg Hunts, Camps, Events, Shows and Places to Go in Enfield? Read our latest blog to find out
Pantomime returns to Dugdale this Easter with 'Puss in Boots'. As Colin is left facing a future on the streets of Enfield, he receives news of his inheritance, his father's old tabby cat, affectionately known as 'Puss'. Packed with music, dance, comedy and of course audience participation, 'Oh yes it will!'
Wednesday 28th March – Sunday 15 April
Dugdale Centre, 39 London Road, Enfield EN2 6DS
https://www.dugdalecentre.co.uk/whats-on/puss-in-boots/?spektrix_bounce=true
Easter extravaganza with Superstars Enfield.
Pre School Multi Sports Class Super Stars Enfield, will be hosting a special Easter themed session. Active little ones will enjoy running around and participating in fun physical activities.
28th March 9.15 & 10.15am
1 Old Park Avenue, EN2 6PJ
Follow an exciting Easter Egg picture trail and enjoy a chocolate treat. This will be a fun afternoon outing
Friday 30 March – Monday 2 April 11am – 3pm
Forty Hall, Forty Hill, Enfield EN2 9HA
https://www.fortyhallestate.co.uk/whats-on/easter-egg-hunt/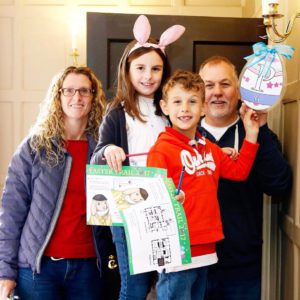 Easter Golden Egg Trail at Capel Manor
Follow the Easter Egg Train, visit the animal and enjoy the gardens at Capel Manor this Easter
30 – 31 March 10am – 5.30pm
Bullsmoor Lane, EN1 4RQ Enfield, Enfield, United Kingdom
https://www.capelmanorgardens.co.uk/events/easter-golden-egg-trail-at-capel.html
Do you have a little one that likes to skate? Join them for an Easter Eggstravaganza! There'll be a mini egg giveaway and a t-shirt prize for the best dressed Easter outfit! Experience their photo-mirror and have plenty of fun on roller skates.
Sunday 1st April 3pm – 7pm, Windmill Road, N18 1NB London, United Kingdom
https://www.facebook.com/events/710260899180544/
Easter Egg Hunt at Bury Lodge Park 🐰
Join the fun and find some treats at this beautiful park
1st April 1pm
www.friendsofburylodgepark.com
Active Enfield have an extensive programme of fun activities for little ones over Easter.
3rd – 13th April, vaious venues
https://issuu.com/fortyhallestate/docs/ecsl3033_active_enfield_easter_18_a
Salisbury House
Crafty Activities for children have been organised at Salisbury House. Kids interested in Art will really enjoy these events
3rd – 5th April
Bury Street West, N9 9LA London
https://www.facebook.com/SalisburyHouseN9/
Tatty Bumpkin Winchmore Hill will be hosting yoga camps this Easter- They will be filling them up with self love , body confidence and a little sprinkling of chocolate!!!!
These camps will be suitable for primary school age children.
Tuesday and Thursday April 3rd,5th 10th 12th.
£30 per day including hot lunch and afternoon tea.
Venue: Winchmore Hill. Contact: Winchmorehill@tattybumpkin.com
There are some fantastic events planned at Forty Hall. Stories and More, Birds, Eggs and Chicks and Easter Baskets and Gingerbread Treats will keep little ones entertained.
4th – 12th April, Forty Hall, Forty Hill, Enfield EN2 9HA
https://www.fortyhallestate.co.uk/whats-on/?page=1
Crafty Chefs Spring Holiday Cooking Workshops
These will be on Wednesday 4th April & Thursday 12th April.
On each day there will be 2 classes one in the morning at 10am-12pm and one in the afternoon 1230pm-2.30pm. Each class will have a different menu, the morning classes will be savoury & sweet cooking and the afternoon classes are all about chocolate.
£20 per child per class (ages 7+)
Venue: Irkdale Avenue, EN1 4BD.
Booking is essential and for more information contact ailsa@craftychefs.co.uk
Join ABC's and 1 2 Please for Easter Games and Activities, Grow your own seeds, Themed Crafting, Play Dough and Party food
| | |
| --- | --- |
| | Wednesday, April 4 at 11:30 AM – 1 PM |
St Lukes church, 1a Phipps Hatch Lane,, EN2 0HL Enfield, Enfield
Crafty Chefs & Fairy Tales Come True are hosting an Afternoon Tea Party with Rapunzel.
Friday 6th April – 10am-12pm
£12.50 per child (all ages welcome, event is aimed at 2-7 yr olds)
Venue: Fields Cafe, St Luke's Church, Phipps Hatch Lane Crafty Chefs will help the children make Rapunzel Tower Cupcakes and Edible Paint Brushes, then Rapunzel will entertain the children with music, fun & games. Sandwiches are provided.
Booking is essential and for more information contact ailsa@craftychefs.co.uk
Ultimate Bounce About and Easter Fair
JTT Events have organised the Ultimate Bounce About and Easter Fair. There will be Inflatables, Face painting, appearances from Mascots and Neverland Events and so much more
7th April 11am – 5.30pm at Wilbury Primary School N18
https://www.facebook.com/events/907102796117314/
Dance Stables are running workshops this Easter.
4 days filled with Dance, Games and Easter fun!
For boys and girls aged 3-12 years old. The day will be filled with lots of dancing, games and arts & crafts.
9th – 12th April 10am – 2pm at St Georges School, Enfield EN2
To book a place and further information please email us here: info@dancestables.co.uk
Artstop are offering workshops in the Easter Holidays. Easter Eggs, Spring Flowers and Easter Bunnies can be made
10th – 12th April
St Andrews Church, Chase Side, N14 5PP
With a spring in their step and bunny ears on their heads, the Tales from the Shed team would like you to join them for an 'egg-stra' special, 'chocolate-tastic' Easter-themed (as if you couldn't guess!) performance. They'll soon have you hopping about like a true Easter Bunny! Easter Shed is also on too.
Wed 11 – Sat 14 Apr: 9.30am & 11.15am
Chickenshed, 290 Chase Side, Southgate, N14 4PE
https://www.chickenshed.org.uk/Event/easter-tales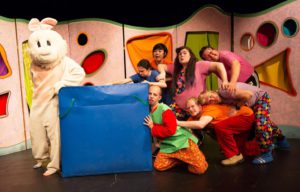 Peter Rabbit
Peter Rabbit will be on the big screen from 16th March. The whole family will love this film
Eating Out
We have some lovely local and family friendly venues Enfield. The Plough in Crews Hill and The Winchmore have a play area, activities for children and a kids menu. Aroma Tea and Coffee House and Nanny Apples Tea Room are extremely welcoming to children too.
The Little Extra's
Easter Bouquet
Spring flowers are beautiful. Whether you are hosting or going to somebody else's for Easter, beautiful flowers from your local florist SK or Oakwood Florist will be appreciated.
Sweet Treats
Personalised sweet treats could be a lovely alternative to Eggs. Contact The Favour Godmother for orders
Easter books from Usborne
Usborne Books will have beautiful books for Easter. They are educational and will last longer than Eggs too. Anne and Linda can help with enquiries and orders. Studio Jacqueline can also make you personalise crates to present gifts too
Pamper Time
Do not forget to make some time for you too. We have amazing Holistic Therapists, Hairdresser and Beauty Providers on our Hair, Beauty and Wellness Page. If you need to burn off some calories after Easter, our Health and Fitness providers can help you too.
Have an amazing Easter Break. Andrea xx