[et_pb_section fb_built="1″ admin_label="section" _builder_version="3.0.47″][et_pb_row admin_label="row" _builder_version="3.0.48″ background_size="initial" background_position="top_left" background_repeat="repeat"][et_pb_column type="4_4″ _builder_version="3.0.47″ parallax="off" parallax_method="on"][et_pb_text admin_label="Text" _builder_version="3.0.74″ background_size="initial" background_position="top_left" background_repeat="repeat"]
What's on over Half Term in North London? Where are the best Halloween Parties? Is there anything on for Adults? Sophia's Diary has the answers in our latest blog
Baby Pumpkin Halloween Special
POP BABY PUMPKIN! We have amazing baby-friendly bonfire, bouncing pumpkins, a magical pumpkin patch and much, much more!
The event is open to new, old and existing Baby Sensory babies so come and join the fun on Saturday 13th October at the Finchley Quaker Meeting House on Alexandra Grove, N12
Each class will last 45 minutes with some refreshments. Tickets are £13 which include both parents and baby. Feel free to dress baby for the
https://www.facebook.com/events/1703961026399536/
Teddy Tastic Halloween Party
Time for Change Kids have teamed up with Teddy Tastic to offer you an amazing Teddy Tastic Halloween Party. Children can build their own bear, mixed in with lots of Halloween madness, arts and crafts, party games and so much more. The morning party includes unlimited soft play between 9.30am and 1pm at KB02 Venue Hire with Eventful Ideas. Spaces are limited so get booking now!
23rd October, 11am & 1.30pm
KB02 Venue Hire, 220 Green Lanes, N13 9UD
https://www.facebook.com/events/270369017143584/
Eddy The Teddy's going off on holiday to the seaside with his best friend Sammy Ragdoll, Sammy is hoping to have a nice relaxing time but with Eddy the Teddy, an adventure is never far away.
Tuesday 23rd October 2018 at 11.30am & 13.30pm
The Dugdale Centre, 39 London Road, Enfield EN2 6DS
https://www.dugdalecentre.co.uk/
Lots of fun-filled activities including Drama, Art, Games and Arts & Crafts. Chlidren will become creative artists using various art forms throughout the day. There will also be story telling adventures and drama-based games, props and script work.
Children bring their own packed lunch and can dress up if they wish. £30 for the session. Taught by fully-qualified Drama and Primary School Teachers.
24th October 10am – 3pm
Address: Oakwood Baptist Church Merrivale N14 4TE
To Book:
TheArtzKidz@gmail.com ~ 07925 581 057 ~
Halloween Club
Dai from Tatty Bumpkin has organised a Halloween Club
Explore the Haunted Hall
Dare you creep inside Forty Hall this Halloween? Look out for ghouls, spiders and cobwebs, rats and mice… Cover your ears – there'll be some chilling sounds!
Pick up a children's activity trail map on reception for £1 to help you explore the Hall and find your way out again!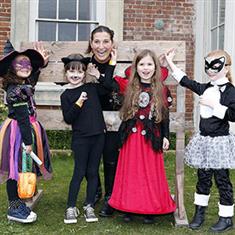 23rd – 28th October 11am – 5pm
Forty Hall, Forty Hill, Enfield EN2 9HA
https://www.fortyhallestate.co.uk/whats-on/explore-the-haunted-hall/?spektrix_bounce=true
TrackPlay
Come and enjoy a Half Term SPECIAL on 24th October of track play with Thomas and his friends. Each session now last 90 minutes and a great way to keep the kids occupied.
There are refreshments available however, no mess for you to clear up just turn up and join in. Use Code LOVESOPHIASDIARY for a discount
https://trackplay.co.uk/enfield-wednesday-24th-october-2018/
Halloween Slime Party
Pink Lemonade London is hosting a Halloween Slime Party. Kids will love getting messy and this is not in your home.
28th October, 1pm
KB02 Venue Hire, 220 Green Lanes, N13 9UD,
Half Term Halloween at Sailsbury House
Three days of Super Spooky makes.
Wednesday 24th Broomsticks and Staffs, Thursday 25th Headdresses and Masks, Friday 26th Skulls and Spiders.
Drop in between 11am – 2pm no need to book. £5 per craft.
If it's busy you can enjoy a cuppa/snack in our tea room and play in the garden.
https://www.facebook.com/events/2011557155569629/
Pamper Party
School Holidays means quality time with the kids. Why not do something that both mother and daughter will enjoy? A pamper party seems perfect. Enjoy a relaxing afternoon with your princess
24th October, 1pm and 3pm
KB02 Venue Hire, 220 Green Lanes, N13 9UD,
Time for Change Kids and Eventful Ideas
Time for Change Kids and Eventful Ideas are hosting an extensive range of activities at their venue in Palmers Green over Half Term. Younger and energetic children will love the soft play party. Older children will be really impressed with the Scalextrics Racing Day.
22nd – 30th October
KB02 Venue Hire, 220 Green Lanes, N13 9UD
Tales of the Shed Autumn Season
Tales from the Shed are vibrant, interactive theatre shows that are perfect for young children. They are informal, lively and amazingly engaging as the performers and audience share the same space – children are always encouraged to make a lot of noise and to make the story happen.
23rd – 26th October 10am & 11.30am, 290 Chase Side, London N14 4PE
https://www.chickenshed.org.uk/Event/tales-autumn18?spektrix_bounce=true
Come and join us for 3 amazing crafty chef workshops! Each workshop lasts for 1 hour and the children will make 3 delicious treats that they can take home (If they don't eat them before that) All our treats are Halloween themed and absolutely delicious! 25th October Various Times
Neverland Adventure Camp
Join Neverland Events for spooky fun at their Adventure Camp. Highlights of the day will include potion making, magic spells, cupcake making and dancing at their disco.
23rd, 25th & 26th October
St Margaret's Nursery, Margaret Road, Barnet, EN4 9NT
https://www.neverlandevents.co.uk/
Princess Aurora Afternoon Tea
Sleeping Beauty & Crafty Chefs are hosting a Tea Party at Fields Cafe
(St Lukes Church, EN2 0HN)
On Friday 26th October 10am-12pm or 12.30pm – 2pm
Princess Aurora's Tea Party! Children will make a flower biscuit pop and decorate an owl cupcake with Crafty Chefs. Aurora from Fairy Tales Come True will entertain the children with some fun and games before they sit down and enjoy sandwiches and their decorated goodies for their afternoon tea. Contact: ailsa@craftychefs.co.uk to book a place
https://www.facebook.com/events/1344669055663723/
Halloween Spooktacular
Dress Up, go on a hunt, watch a show and do some crafts at the Halloween Spooktacular event at Bury Lodge Park
28th October, 3 – 5pm Bury Lodge Park, N9 9LA
https://www.facebook.com/events/279883329501468/
Half Term Camps
There are some excellent school holiday camps at various locations too. Give them a call to find out their opening times and the activities they will be doing so this matches your child's interest.
Lets not forget the adults.
Trent Park Country Club are hosting a Halloween Thriller Ball for Adults
[/et_pb_text][/et_pb_column][/et_pb_row][/et_pb_section]