Time to Spoil Mum – Mother's Day Special
She looks after us, never says no to her family and we absolutely love her. How do we make Mother's Day special for the queen of our hearts?
Buy her a beautiful bouquet of flowers
Order her a beautiful bunch of flowers from Flowers by SK. Make sure you choose her favourite colours and write her a nice message.
Oakwood Florist also have a fantastic choice and other gifs are available in the shop too. It maybe worth taking mum as there is a beautiful tea room in the shop.
Going Out
Give her a break from routine and chores and treat her to a meal. Plough Crews Hill has an excellent reputation for being child friendly and has an outdoor play area too.
The Winchmore have a Jazz night for Mothers Day too. Aroma Tea and Coffee House are also taking bookings for afternoon tea.
The are some fantastic local shows at Chickenshed, The Dugdale and Millfield Theatre too.
A lovely Mothers Day Event has been organised at Salisbury House too
A thoughtful and keepsake gift
A personalised sign or message will always be a hit and be loved for a long time.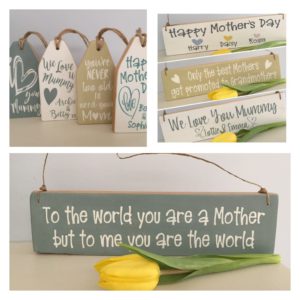 Sparkly Crafts have some gorgeous personalised items too.
Kids can also paint a ceramic for mum at Going Pottery or Pot's of Arts. Hand and Footprints can be placed on them too.
Peter Dyer Photographs are also taking bookings for Photoshoots that will have lasting memories with the family.
Hashtag You have some stunning accessories.
Light up her life
PartyLite have a fantastic range of beautiful candles and accessories. They will make a room look fabulous, help mum relax and they smell divine too.
Sweets and Treats
Plan dessert in advance and order a beautiful cake from Rosewater Cake Designs or Big Cake Adventure. Cupcake rose bouquets are very popular for Mothers Day.
A box of sweet treats from The Favour Godmother will add that special touch and the kids will be happy to share that too. Elianna Event Décor also provide these and personalised balloons too.
Make her look and feel amazing
Treat mum to relaxing massage with Blue Lotus Massage. They are mobile too so it could be a lovely surprise for mum. AK Massage offer pregnancy massage too and have gorgeous Neal's Yard skin care gifts too.
A gift voucher from Tessa Stevens will also be highly desirable too.
Hair by Gabriella can colour or blow-dry her hair and she also does nails too. She is mobile too so can be surprised at home. Theoni's Hair has an excellent reputation for hair extensions.
Keep mum glowing and healthy with a hamper filled with Aloe Vera gifts from Loredana Health and Wellness.
Keats Clinic also have a range of treatments too.
Make sure you take a look at the fitness page too as many mums will appreciate some Yoga lessons with Rachel or an Online Fitness Coach with Olivia
Mini Break
Those with a bigger budget may want to look into a break or holiday. Give our recommend travel agent about what you are looking for and he will find the best deals for you.
8. Save Mum some money
There are currently over 50 local offers on the discount card. Save mum lots of money when she shops from fantastic local business