Sunday Shed – every Sunday in June | Drop in workshops for children ages 5 – 18 yrs
Little Spark!
9.30am -11.00am | £8 per session | For ages 5-7yrs
Spark!
11.15am – 12.45pm |£8 per session | For ages 8-11yrs
Performance Project
1.15pm – 3.15pm | £12 per sesson | For ages 7-11yrs
Acting Project
Every Sunday until 17 July (except 5 June)
1.15pm – 3.15pm | £12 per session. For ages 12-18yrs
Chickenshed's End of Year shows:
Chickenshed's Foundation Degree students present
Broken Taps
The Block. Broken taps. The scent of dustbins, drugs and home cooked food fills the air. This is where our tight-knit community lay with vibrant characters who all unite against the brink of threat & change. Will the council forever cause chaos? Follow these characters on their story, which highlights endearing people navigating their way through various trials and tribulations of life. It is all held together by one place… King's Grove Estate.
Dates: Wednesday 8 June – Saturday 11 June | Time: 7pm (Friday 3pm & 7pm)
Tickets: £5 | Age recommendation: 11+ (adult guidance)
To book visit: https://www.chickenshed.org.uk/Event/fd-final-production-22
Chickenshed's BTEC students present
Signed Sealed Delivered
'Signed Sealed Delivered' is a Jukebox Musical based on the songs and genius of Stevie Wonder and the film and genius of the iconic 1985 film 'The Breakfast Club'. What happens to the Breakfast Club characters when they leave the school which was keeping them in Detention – to go out into the big, wide world which wants to label them, trap them and send them – 'Signed Sealed and Delivered' to Community Payback? Admit guilt or risk being locked up with no key and no more Breakfast Club!
Date: Wed 15 – Sat 18 June | Time: 7pm (Fri 3pm + 7pm)
Tickets: £5 | Age recommendation: 11+ (adult guidance)
To book visit: https://www.chickenshed.org.uk/Event/btec-final-production-22
Chickenshed's BA (Hons) students present
These two end of year shows are the final pieces by students that have studied on our BA (Hons) in Inclusive Performance and represent the culmination of all their learning and creativity during their time here. Each year group has a unique vibrancy that inspires their work. These shows are only open to public once a year and are a great opportunity to see our unique creative processes in action. Expect to be moved, entertained and inspired.
Blame Game!
Through true stories and comedy 'Blame Game!' follows the hard hitting journey of the five stages of grooming. The show aims to bring awareness to the topic of grooming.
C.H.O.I.C.E
Unconscious Bias affects us all and cannot be controlled. But what if it could? In a world where prejudice, discrimination and bias is controlled and fixed with a simple pill (C.H.O.I.C.E), the world seems to be on the way to world peace. But how much control is too much control? And where do we draw the line between cultural appropriation and appreciation?
Dates: Wednesday 22 June – Saturday 25 June | Times: 6pm (Friday 2pm & 6pm)
Tickets: £5 | Age recommendation: 11+ (adult guidance)
To book visit: https://www.chickenshed.org.uk/Event/ba-end-of-year-show-22
Music at Chickenshed
Jo Collins and Friends
Sunday 12 June and 7 August | Tickets: £12 | Doors open 7pm Music at 8 pm
To book: https://www.chickenshed.org.uk/pages/search.aspx?q=jo%20collins
The immensely talented Co-Founder of Chickenshed Jo Collins invites guests for a thrilling set of eclectic covers from pop to soul, funk, folk and more.
So why not gather a group of friends, book a table and enjoy the wonderful sounds of Jo backed by her in-house band?
Open Mic! During the evening guests can take to the stage for a song or two as part of this fun, relaxed and highly enjoyable Sunday night out.
A Midsummer Evening – Chickenshed's Community Choir
Sunday 19 June | 7pm – 9pm | Stalls £15 (concs £13), Gallery £12
To book visit: https://www.chickenshed.org.uk/Event/a-midsummer-musical-evening
An evening of music featuring Chickenshed's Community Choir with a very special guest!
Our Youth Band and members of the wider Chickenshed community will also be playing, coming together for a night of musical extravaganza.
Performances at Chickenshed
I'm Just a Little Bit OCD (Produced and presented by Concept Theatre)
Sunday 26 June at 3pm and 6pm (60min +30mins Q&A) | Tickets: £12 (£10 concs)
For ages 15+ (there are scenes that some viewers may find upsetting)
https://www.chickenshed.org.uk/Event/im-just-a-little-bit-ocd
I'm Just a Little Bit OCD is a play told through episodic scenes of sisters,Tilly and Grace, as they come to terms with Tilly's new reality. Alongside their story, brutally truthful, yet comedic monologues are performed by Matilda, a podcaster and OCD advocate as she performs her first live show directly to the audience.
I'm Just a Little Bit OCD is supported by OCD Action (The UK's Largest OCD Charity.) OCD Action say "We feel strongly that this production should be seen by as many audiences across the country as possible."I'm Just a Little Bit OCD" cleverly and uniquely combines comedy with an accurate portrayal of the condition – which is something we very rarely see."
This production was supported using public funding by the National Lottery through Arts Council England and The National Lottery Community Fund.
Children's shows on Tour
Tales from the Shed at Alexandra Palace
Saturday 18 June | Performance times: 11am & 1pm | Tickets: 11am show FREE | 1pm show £6
For Ages: 0-6yrs
Tales From The Shed are heading to Alexandra Palace this summer!
Come and join us for a fun, vibrant and interactive shows for children aged 0-7. There is no edge of the stage, and the audience and performers share the space, to create a unique story inspired by the children's imagination. With a spark of magic, the session will come to life through puppetry, music and movement as we follow the adventures and tales of our favourite characters.
Get ready to meet new friends, big and small as you join us for a session of play, silliness and magic.
Booking now:
Chickenshed's Christmas show – Jack!
Opens Wednesday 23 November – Saturday 7 January
Tickets from £12
https://www.chickenshed.org.uk/Event/jack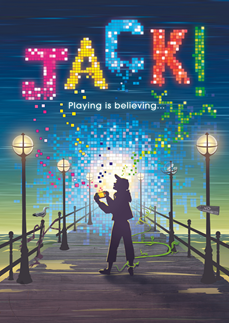 Planet Play Summer Season
Until 15 July
Shows for children ages 0 – 3yrs
https://www.chickenshed.org.uk/Event/planet-play-summer-22
Tales from the Shed Summer Season
Until 16 July
Shows for children ages 0 -7yrs
https://www.chickenshed.org.uk/Event/tales-from-the-shed-summer-season-22
For further information about Chickenshed please visit our website