Your Family Christmas Diary by Sophia's Diary
By Andrea Krase, Owner and founder of www.sophias-diary.com
Wow, has the build up to Christmas started already?!!!! Parents want to make it as magical as possible for their little ones. We have been researching to find the best things to do for weeks and weeks
What's on over the festive period for families? What do we need? Read our ever so popular Christmas blog to find out
Our Top Theatre Choices
Beauty and The Beast
Christmas is not the same without going to Panto.
Have you booked the best local pantomime in Edmonton yet?… Oh no we haven't, oh yes we have!! Watch Beauty and the Beast in the enchanted forest where curses need to be broken, true love must save the day and the Princes aren't always so handsome you have all the ingredients for another fun packed Millfield Pantomime! Oh Yes You Have! Unmissable entertainment is guaranteed in a show packed with special effects, stunning costumes, beautiful scenery and, of course, lots of comedy that will have the whole family laughing along
29th November – 6th January, Millfield Theatre, N18 1PJ
https://www.millfieldtheatre.co.uk/whats-on/beauty-the-beast-2018/?spektrix_bounce=true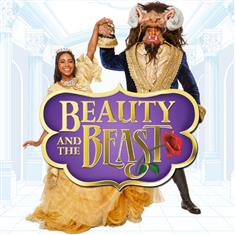 A Christmas Carol at Chickenshed
Join The Chickenshed for a magical and brilliantly uplifting retelling of the unforgettable story of Ebenezer Scrooge, that "squeezing, wrenching, grasping, scraping, clutching, covetous, old sinner"
21st November – 5th January, Rayne Theatre, Chickenshed, N14 4PE
https://www.chickenshed.org.uk/Event/christmas-carol
Christmas Tales at Chickenshed
Christmas Tales, is back with a sprinkle of magical snowflakes, Tales from the Shed has been supersized to bring this colourful, energetic and vibrant show to our biggest and brightest stage, the Rayne Theatre.
With puppets, singing, dancing and some larger-than-life characters, Christmas Tales is guaranteed to entertain the very youngest of audience (and grown-ups too!), leaving everyone happy and joyful at this most wonderful time of the year!
5th December, 2018 – 30th December, 2018, Rayne Theatre, Chickenshed, N14 4PE
https://www.chickenshed.org.uk/Event/christmas-tales-at-chickenshed
Christmas Tales at The Dugdale Centre
Fun and festive show, Christmas Tales, is back for another year! Based on the well known Tales from the Shed shows – but with an added sprinkling of magical snowflakes – these colourful and vibrant shows will be showing in the cosy Dugdale Theatre. With a small, but perfectly formed, cast these shows are perfect for younger children.
With plenty of puppets, singing and dancing, Christmas Tales is guaranteed to entertain the very youngest of audience (and grown-ups too!), leaving everyone happy and joyful at this most wonderful time of the year!
6th December, 2018 – 30th December, 2018, Dugdale Centre, 39 London Rd, Enfield, EN2 6DS
https://www.chickenshed.org.uk/Event/christmas-tales-at-dugdale-centre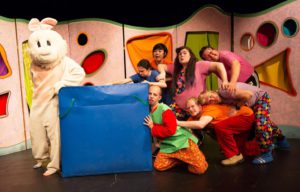 Our Recommended Events
N21 Winter Festival and Fireworks by JTT Events
JTT Events present another spectacular event. Filled with fun laughter and surprises for all, this time at Bush Hill Park Golf Club, Winchmore Hill N21.
Bring your family and friends along for a fun-filled day of activities, Entertainment, Rides, Performances, Xmas Market, music, food. They also have Santas grotto for a meet and greet with gift.
Saturday 15th December 12pm – 8pm, Bush Hill Park Golf Club, N21 2BU
https://www.facebook.com/events/259794638199616/
Forty Hall Christmas Fayre
Start your Christmas shopping at our Late Night Market that kicks off our Christmas Market weekend at Forty Hall Estate! Forty Hall and the Historic Courtyard will be filled with a wide variety of stalls selling wonderful seasonal gifts and other treats.
Friday 30 November, 5pm – 9pm, Saturday 1 December & Sunday 2 December, 11am – 4pm
Forty Hall, Forty Hill, Enfield EN2 9HA
https://www.fortyhallestate.co.uk/whats-on/forty-hall-christmas-market-2/
Neverland Christmas Extravaganza
Fancy doing something Christmassy and fun with your little ones? Look no further and come along to our amazing Christmas extravaganza!
16th December 12pm – 2pm, Village Club, N10 3RN
https://www.facebook.com/Neverlandeventsuk/
Christmas at Capel Manor
Capel Manor invites you to wrap up warm and join us for some festive fun this winter! Children can enjoy free face painting, Christmas craft activities and explore the gardens in search for the naughty elves. Treat yourself to cream tea in the Manor House and if you've been good you can visit Father Christmas in his Grotto.
Saturday 1 and Sunday 2 December, 10am to 4pm
https://www.facebook.com/events/343999436333953/
Parade of Light
This event is so unique and only on for one day so add it to your diary now. There will be so much on throughout the day including entertainment, a Live Band, Carol Singers, Stalls and Food,
Sunday 2rd December, Enfield Town
https://www.facebook.com/events/726359657741221/
The Willow Fair at Myddelton Gardens
Join us on the 9th of December for a mind, body, spirit Christmas fair at the historic Myddleton House and Gardens. Have the chance to experience a range of holistic therapies including: crystal healing, Reflexology, psychic tarot readings, and massage.
After indulging in your treatments, why not explore our Christmas market, where you can find a fantastically festive range of local goodies, such as: crystals, arts and crafts, Christmas decorations, stocking fillers, vegan treats, and many more!
Bring the kids along for their chance to meet Father Christmas who is being kind in enough to join us despite his busy schedule!
Sunday 9th December, 10am – 4pm, Myddelton House Gardens, Bulls Cross, EN2 9HG
https://www.facebook.com/events/1933888386905133/
Christmas at Salisbury House
There are a number of fantastic Christmas Events at Salisbury house this year. Sophia's Diary's Favourite is the Winter Fayre and Green Grotto. This will be a very traditional winter experience where you can make a tree decoration in our special workshop and visit Mother Christmas (the Big Man will be very busy), where you can leave your letter for Father Christmas and receive a gift bag. (£5 for each activity). Hang a message on our Winter Wishing Tree and enjoy some very traditional seasonal entertainment. Dress for outdoors as we will have snow!!
14th – 16th December, Salisbury House, Bury Street West, N9 9LA
https://www.facebook.com/events/719627808406165/
A Christmas Toddler Cooking Workshop
Crafty Chefs Christmas Toddler Classes
Crafty Chefs Christmas Toddler Classes
Wednesday's 10am-11am & Friday 1-2pm @ Irkdale Avenue, EN1 4BD. £8 per child Wed 28th & Fri 30th Nov – Christmas mini muffins (reading: 'Twas the night before Christmas) Wed 5th & Fri 7th Dec – Mince pies (reading: The Snowman) Come and join us at Crafty Chefs this Christmas get the little one cooking up some festive fun. As well as baking our goodies included in the class is a snack & drink, we read a story, taste and talk about the ingredients we have been using. We cater for all dietary requirements and food allergies so please don't let that stop you trying our classes. Limited spaces available… Contact: ailsa@craftychefs.co.uk to book
The Plough's Christmas Market
The Plough Crews Hill will be hosting our very own Christmas market. They will have games, entertainment, mulled wine maybe even chestnuts roasting on an open fire and so much more! Come on down and enjoy the festivities!
Saturday 1st September, 9am – 4pm, Cattlegate Road, Crews Hill, Enfield, Enfield, United Kingdom EN2 9DJ
https://www.facebook.com/ThePloughEnfield
Enfield Town Christmas Market
Visit Santa's Grotto at Enfield Market and hear beautiful Carol Singing too. There will be delicious food and a carrousel ride too
13th – 22nd December 9am – 4pm, Enfield Market EN2 6LN
https://www.facebook.com/events/164248451149209/
Ceramic Christmas Decorations
Make Christmas special by creating your own ceramic decorations. Using a range of cutters and materials to add texture this activity is suitable for all ages.
28th November 11.30am – 2.30pm, Salisbury House
https://www.facebook.com/events/329432947841512/
Places to go over the Holidays
Flip Out Brent Cross – Our favourite Trampoline Park
Why not treat someone special to an E-Gift Card this Christmas? There's no need to run around the shops trying to find something new this year. We've made it super easy to schedule the E-Gift Card for the day you want the person to receive it. Record a personalised message at the same time so they know who sent it to them! We promise the E-Gift Card will help create fun memories to cherish and remember forever!
Flip Out Brent Cross is the ultimate trampoline arena…and MORE! Get set to discover an exhilarating experience when you arrive at the UK's most advanced trampoline arena, trick park and ninja skills centre! The legendary ninja obstacle course is guaranteed to challenge both body and mind. The ultimate question is 'can you make it up the warped wall?'. The battle beam is great for duals but requires balancing skills! With over 60 trampolines there's no time to stand still! Whether you're 5 or 65! There's something for everyone! The Olympic standard trampoline and tumble track is perfect for budding gymnasts. Try out stunts in the trick park then cool down in the laser maze whilst using your stealth skills. Foam pit fun awaits and get set to break records whilst playing interactive games such as the iWall. With free parking and a Costa cafe, we are a must visit destination for any age!
'Fantastic endorphin-raising fun' – London Time Out
Our Indoor Fun Page also has lots of ideas too
School Fayres and Parties
Most schools will have a fayre this Christmas. Why is it important for us to visit? This is a huge fundraising opportunity, and at a time of budget cuts, our support is crucial. There will be lovely stalls, fun activities, and even the chance to see Santa.
London at Christmas
How lucky are we that we are just minutes away from Central London, one the best cities in the World? Family favourites include Winter Wonderland at Hyde Park, Winterville on Clapham Common, The Christmas Lights on Regents Street, Harrods, and Hamleys. There are some fantastic shows such as The Snowman, A Christmas Carol and Dick Whittington to book too.
Christmas Markets
Walking around a Christmas market with the family, is something everyone can enjoy. With Christmas Music in the background, beautiful stalls, unique gifts, and Christmas Food and of course some Mulled Wine or Cider, can put a smile on everyone's face. Lee Valley Christmas Market is a good family pick.
Meeting Santa
Book Christmas Grotto early, the queues can be crazy. Many popular ones maybe full already so be organised. We are lucky to have one of the best, Christmas Wonderland at Springtime Nurseries of Crews Hill, on our doorstep. Pearsons, Van Hage and Santa Spectacular at Willows Farm are brilliant too. For a more personal experience, why not try breakfast of dinner with Santa. Wyevale Garden Centre and The Harvester are taking bookings.
The Plough Presents Breakfast with Santa
Santa invites the children of Enfield to join him for Breakfast on 1st December from 9am – 11am
Cattlegate Road, Crews Hill, Enfield, Enfield, United Kingdom EN2 9DJ
https://www.facebook.com/ThePloughEnfield/
Santa's Grotto at KB02
Visit our amazing Santa's Grotto and enjoy a fantastically festive experience. Tell Santa what you want for Christmas, take away a Christmas goodie bag and get your happy memories captured by Santa's helper! Each child gets a private visit with Santa as well as a great day of soft play!
3rd – 21st December, KB02 N13 5UD
https://www.facebook.com/events/369099483831430/
Santa Drops by Party Costume Hire UK
Party Costume Hire UK are offering Santa drops on the following days between 2pm -8pm
22nd December – limited spaces
23rd December
Each child will receive a sweetie gift from Santa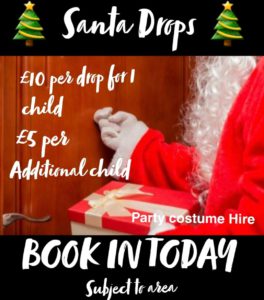 Fun Junction Breakfast with Santa

Kids can play and meet Santa too at Fun Junction
Christmas Shopping
Santa's Jar by The Nursery Bee
Personalised glass jars that can say "Milk for Santa, Love from …", or perhaps "sweets from Santa, for …" . The jars come with either silver or gold lids and red and green paper straws. The jars can be used year after year. Choose either shimmery red, gold or silver wording. £6 each
Baby and Children Casts
Is it your baby's first Christmas? Why not capture that moment and make a cast from their little hands . and feet? Casting with Love can help
Why buy a Christmas outfit, when you can have it hand made. Crafty Mama has some exceptional designs and beautiful clothes.
Studio Jacqueline creates personalised signs from recycled pallet wood. Each sign is hand painted & stencils are machine cut to give a professional finish. Your sign will be unique, with your own personalised message adding to the charm and character of each piece. There is also a selection of crates which I can personalised, ideal for Christmas eve boxes, display for fetes, weddings etc.
The Christmas Eve crates, which includes personalised name are £20.00.
Christmas Stationary, labels and office supplies

Sprint Stationers have personalised Christmas Stickers, Beautiful Toys and cater personalised printing needs too. There is 10% if you are wearing Christmas Jumper too
Christmas Bears
Have you brought a Christmas bear. Reindeers, Penguins and Bears dresses as Santa are very popular. These will be great snuggling partners when the kids are in their Christmas Pyjamas at bed time.
Would you like TEDDY TASTIC to host a CHRISTMAS party for your SCHOOL/NURSERY?!😀🐻😀🐻😀🐻😀🐻😀ONLY £10 to include bear, arts& crafts & games!
https://www.sophias-diary.com/listing/teddy-tastic/
Stockings and Sacks
If you fill up a Christmas Sack or stocking, it will be more special if it personalised for boys and girls. Robes, Baby Grows and bibs can alseobe personalised too so write a cute Christmas message. https://www.sophias-diary.com/listing/bella-beau/
THE Christmas Day outfit
Order a special and stunning designer outfit for Christmas Day from Beatrix and Hugo. The photos will leave lasting and special memories so everybody needs to be looking their best. Check out Mini Moi Boutique for ideas too
Bambino Couture
Keep little ones warm yet stylish over Christmas with unique pieces from Bambino Couture, at great prices. Including knitted dresses, jumpers, knitted hats, hair accessories, boots and much more. They also make perfect Christmas gifts. Gift vouchers are also available,which little ones love as they love visiting our showroom and picking out outfits themselves! Have a magical Bambino Christmas everyone
https://www.sophias-diary.com/listing/bambino-couture/
Christmas Flowers
Flowers always give that extra stunning look to any home. Whether you are hosting, need a gift or would like wreath, our recommended florist Sue will do a provide you with bespoke and high quality flowers.
https://www.sophias-diary.com/listing/flowers-by-sk
Oakwood Florist have a beautiful selections of flowers too. You can even have a coffee in the Tea Room when you visit
Christmas Cakes
Food is what everyone looks forward to on Christmas Day. Big Cake Adventure and Rosewater Cake Designs can make the most delicious and lovely looking cakes so they will really impress your guests.
Mey also makes the most delicious homemade mince pies. Olympic Catering can also help with food orders too
https://www.sophias-diary.com/listing/big-cake-adventure/
https://www.sophias-diary.com/listing/rosewater-cake-design-bespoke-cake-maker/
https://www.sophias-diary.com/listing/lavender-gardens-patisserie/
Chocolate Treats
A chocolate wreath, Christmas Baubles filled with sweet treat, hot chocolate with reindeer theme and Santa's Milk Jars are just some of the things The Favour Godmother prepares for Christmas
https://www.sophias-diary.com/listing/the-favour-godmother-sweet-treatsfavours/
Christmas Activities
Do you have a fully stocked craft cupboard, Christmas sticker or activity book, a gingerbread house making kit or Christmas cupcake decorating kit? These are all fabulous and cost effective ideas that can be done at home.
https://www.sophias-diary.com/listing/lindas-little-bookshop/
https://www.sophias-diary.com/listing/usborne-books-at-home-books/
Order something bespoke, beautiful and unique from Pretty Glitter Frames. These are really high quality items made with love
PartyLite Candles are absolutely beautiful and will make your house smell more festive this Christmas. Why not host a party for your friends and receive hostess benefits too?
Jewellery and Accessories
Jewellery and Accessories are gifts that leave lasting memories. Stella and Dot, Hashtag You and Carm Jewellery have beatiful and different items. Check out their pages for ideas
Supermarket Deliveries
It is essential to book your delivery slot early to ensure you get a time that is suitable for you.
Tesco – Booking opens from 30th Novembers for deliveries after 20th December
Sainsbury's – Delivery opens 29th November
Marks and Spencer – Last food order for Christmas will be on 15th December
Shop Local
So many members make beautiful, personalised, and hand made products . Check out the shopping page to see what is on offer.
https://www.sophias-diary.com/shopping-2/
Save money while you shop
Have you purchased the SOPHIA'S DIARY DISCOUNT CARD. There are over 50 local offers. What are you waiting for? www.sophias-diary.com/discounts
Cashback from Utility Warehouse
Are you a regular at M&S and Sainsbury's? Will you be buying toys from Toys R Us and Argos? Why not get money off your utility bills whilst you shop. Speak to Rikki to help you make these savings over the busiest shopping time ever
https://www.sophias-diary.com/listing/utility-warehouse-the-discount-club-byrikki/
Time out for Parents
Christmas Door Wreath Workshop
Oakwood Florist are running Christmas workshops again. Sunday 2nd December will be the first one, should you be interested please call us on 0208 363 0717 or email oakwoodfloristltd@yahoo.co.uk
Places are limited so book early to avoid missing out on this fun and festive experience
211 Bramley Road, N14
https://www.facebook.com/events/1775990352512047/
Wreath Making Workshop
Flowers by SK will be having a wreath making workshop on the 1st of December At St Stephans Church Park Avenue Enfield EN1 2BA from 10 am till 1pm. This is a lovely relaxed friendly workshop with a great atmosphere whether you are a beginner or advanced it really doesn't matter come and join me this festive season making your own wreath. All materials are provided
Tea coffee or a little something stronger is also provide
Over the years this workshop has been very popular so
Spaces are limited if you are interested contact me to reserve your place 07977206109
https://www.facebook.com/FlowersBySK/
Christmas Health and Beauty Event
On Saturday December 15th, premium vegan beauty brand SuperFoodLx will be hosting a jam packed event of; luxury beauty, career guidance from celebrity experts and live music. SuperFoodLx's SATURDAY promises to deliver a series of short talks and seminars focusing on health and career planning with some of London's favourite and inspirational women and men who are leading experts in the fields of writing, tv entertainment, fem care, haircare and beyond
https://www.eventbrite.co.uk/e/superfoodlx-saturday-15-december-2018-the-dugdale-centre-enfield-town-tickets-49386156323
Pamper Time
Although it is a magical time of year, Christmas is so busy and there is so much to think about. Make sure you book some time out to get your hair, nails and make-up done, and event treat yourself to a massage. We have some lovely ladies that are mobile will even come to you.
https://www.sophias-diary.com/hair-beauty/
Get in Shape
Christmas is a very social time and we will be going out more than usual. Instead of feeling guilty about eating those extra calories, try to burn them off instead
https://www.sophias-diary.com/health-fitness/
Food, Cocktails an Having Fun
Are you looking for a night out with friends? Thymari have a special Christmas menu, live music on some evenings, delicious food and a great atmosphere.
Trent Park Country Club have special menu's and nights out over the festive period so do check their website. The Winchmore is a fabulous venue for Christmas food and drink. The Plough Crews is a great family venue. The Farmhouse has amazing food and it is a beautiful venue too.
https://www.sophias-diary.com/going-out/
The Perfect Home for Christmas
Get your home ready
Does your house and garden look immaculate for the big day. Do you want to buy some unique furniture, watch anything you want on the Media Centre on Christmas Day, have an alarm and security cameras in the house when you are out the most and have spent so much on shopping. Have a chat with our recommended businesses for your requirements
https://www.sophias-diary.com/home-services/
Too busy to put up your decorations?
Do you love Christmas but too busy to decorate your house or workplace? Do not worry as help is at hand. The Interior Design House can come over and decorate for you.
Now we have our activities planned, what else to parents need to remember to add that special touch to make Christmas Perfect?
Elf on the Shelf
How are you going to introduce this little guy that will make your kids giggle so much. Lasting memories will be made. There are many accessories in The Range, Poundland and The Works in Enfield. Elianna Event Décor has received many balloon orders for when he arrives too
https://www.sophias-diary.com/listing/elianna-event-decor/
A Christmas photoshoot
Whether you want pictures of the kids to send to the family, a family portrait or a Christmas Fantasy shoots for those special Christmas cards, a booking with your local photographer such as Peter Dyer Photographs is recommended.
Mira Demeter Photography has also arranged special sessions for Christmas too.
Gingerbread Biscuits for Santa
Gingerbread Biscuits are popular treats for santa. Why not make them yourself. Crafty Chefs Barnet have provided us with a recipe
You will need:
Ingredients:
75g soft brown sugar
3 tbls golden syrup
1 heaped teaspoon cinnamon
1 heaped teaspoon ginger
95g butter or dairy free margarine
1 tsp bicarbonate of soda
225g plain flour
What to do:
GET AN ADULT TO HELP: Pre heat oven to 180C/350F/Gas 4
Put sugar into saucepan, add golden syrup, spices and 1 tablespoon of water
ASK AN ADULT to bring to the boil, stirring all the time.
Take pan off heat and stir in the butter or dairy free margarine and bicarbonate of soda.
Stir in sieved flour slowly until you have a smooth dough – if it looks too wet add more flour.
Cover pan and leave to cool for 30 mins.
Lightly flour surfaces and roll out the dough to about 1/2cm thick.
Cut cookies out with the cookie cutters.
Put them on a greased baking tray and ASK AN ADULT to cook until golden. This usually takes about 12 mins.
When they are cooled put on wire cooling rack.
Make Plans for a Happy New Year
Award Winning Platinum Performing Arts Urban Pantomime
And Finally, don't forget to book something for after Christmas to avoid getting the January Blues. Book to see Platinum Performing Arts Urban Panto Moana and her Incredible Friends
Any little princess will love a pamper session, especially when Cinderella is joining them.
Book a holiday
And start thinking about your holiday too https://www.sophias-diary.com/listing/marios-constantas-travel-agent/
Do you want a prediction of what 2019 has in store for you? Grounded Spirit can give you an idea with a face to face or messenger reading. Are you curious?
Enjoy the festive period, and Merry Christmas Everyone.
For event ideas: https://www.sophias-diary.com/event-directory
Local Business Directory: https://www.sophias-diary.com/directory