Your Family Easter Diary by Sophia's Diary
Two weeks off in a Spring Holiday can seem like a long time to entertain the children. Sophia's Diary has some amazing idea of how you can create some amazing memories. Post your pictures in our facebook group as we love seeing kids having fun www.facebook.com/groups/sophiasdiarycommunitygroup
Events
JTT Events Present Easter Fair and Unlimited Bounce
JTT Events have organised a fun packed event with Games, Entertainment, Rides and even a visit from the Easter Bunny.
Saturday 20th April 11am – 5pm
Wilbury Primary School, Wibury Way N18 1DE
Easter at Capel Manor
Capel Manor are calling all mini detectives, help the Easter Rabbit find the bunnies hidden all around the gardens.
They have a range of egg-cellent activities to enjoy including:
Mini detectives challenge to find the bunnies hidden around the gardens and receive a treat, Meet and greet the Easter Rabbit, Feel like a bunny in their hop around area, Visit the animal collection including Ring-tailed Lemurs, Alpacas, Meerkats and many more, Furry animal encounters, Face painting, Candy floss, ice cream, burger van and popcorn stalls
Good Friday 19 April and Easter Saturday 20 April 2019 10am – 5pm
Bullsmoor Lane Middlesex, Enfield EN1 4RQ
Rapunzel is making an appearance in North London this Easter to make little one Fairy Tale come true. Entertainment, food and glitter tattoos will be provided
17th April 330 – 5pm
Coffee and Crayons Café, 161 Ballards Lane, N3 1LJ
Easter Tea Party with Fairy Princess
Easter biscuits and sheep cupcakes will be decorated in this fairy themed tea party with Crafty Chefs. A Fairy Princess will also entertain the children with fun, games & an Easter Egg Hunt.
Friday 12th April – 10am-12pm or 1230-230pm
Fields Cafe, St Luke's Church, Phipps Hatch Lane
Children have the chance to make their own bear and play games. If that is not enough fun they can run around in the soft play too and be entertained for hours.
Tuesday 9th April from 11am-1pm
KBO2, Lodge Drive Car Park, 220 Green Lanes, Palmers Green, London N13 5LB
Pamper Day with Children Pamper Parties
Do you have a little princess that will enjoy hours of pampering and being treated like a princess? Children Pamper Parties will ensure she looks and feels spectacular and even walk down the Red Carpet for a catwalk. The girls will also enjoy playing games too.
12th and 15th April 10.30am – 12.30pm
KB02, Lodge Drive Car Park, 220 Green Lanes, Palmers Green, London N13 5LB
Easter Egg-Stravaganza with Lab Tots and Fun Junction
Do you have a little one that loves Science. Lab Tots are visiting Fun Junction this Easter for an unforgettable day of fun, and learning new things too. They can also enjoy playing in the soft play after too
Wednesday 10th April 9.30 10.15am
Fun Junction, Fairley House, Andrew's Lane, Cheshunt, Waltham Cross EN7 6LB
Workshops and Classes
Active Enfield have a fun packed programme for sporty and active children of all ages at various venues. Gymnastics, Horse Riding, Trampolining, and Multi Sports sessions have been organised. This is a great opportunity for children to try something new and have lots of fun too. Spaces are limited so please call to book
8th – 18th April Various locations. Call 0208 807 6680 to book
Easter Programme with Eventful Ideas and Time for Change Kids
A fun packed Easter Holiday has been planned with Eventful Ideas and Time for Change Kids . Little ones can enjoy A Fire Brigade visit, Easter Egg Hunt, Slime Making Workshop, A Princess and Pirate Party, Train Sessions, Teddy Bear Making, and a Greatest Showman Dance Workshop. They have a holiday club for the day too. There is so much choice.
8th – 19th April
KB02, Lodge Drive Car Park, 220 Green Lanes, Palmers Green, London N13 5LB
Cooking Workshops with Crafty Chefs
Crafty Chefs holiday workshops for all ages, as well as the long awaited cooking/baking workshops for older children. The age range for these classes are 7+.
Spring Cooking Workshop
Thursday 11th April
£20 per workshop (ages 7+) Venue: Irkdale Avenue, EN1 4BD
10am – 12pm = Menu: Sweet Potato Fish Cakes with Spring Potato Salad & Hot Cross Buns
Spring Baking Workshop
1pm- 3pm = Menu: Lemon Drizzle Loaf Cake & Baked Easter Doughnuts
Children take all their bakes home.
Participants at this brilliant week-long event will explore and develop a wide range of performance skills through workshops that involve drama, dance, singing and story-making.
Parents and friends will be invited in on the final afternoon to see a performance that has been devised throughout the week.
Everyone is welcome regardless of experience. Participants will need to bring a packed lunch and snacks, and they will be supervised by Chickenshed staff during lunchtimes and breaks.
Date: Monday 8 April – Friday 12 April 2019 | 10am – 4pm
290 Chase Side, London, N14 4PE
Does your little one like performing? Theatre Life Academy have organised The Greatest Showman, Superhero and Princess, Moana and Under The Sea and Disney Day for little ones to enjoy.
11th and 12th April
a,b,c's 1, 2 Please have a fun packed Easter Party planned at Fields. This is perfect for pre-schoolers
Wednesday 10th April 11.30 – 1pm
Children's Easter Workshop at the Museum of Enfield
Learn about natural history collecting and be inspired by what you see to make your own eggciting Easter themed decoration at the Mus
Monday 22nd April 2019 : 10.30am-12pm, 1pm-2.30pm, £5 in advance, £7 on the door.
Visit Flip Out Brent Cross over the holidays for some high energy and trampolining fun
Easter Camps
Barracudas has 80+ exciting activities for children to enjoy during the Easter at Queen Elizabeth Boys' School. Children can make new friends, try new sports and activities, but most of all have lots of FUN!
There is also Energy Assault Course at their Easter camp
8 – 19th April 8.30am – 5.30pm
Visit www.barracudas.co.uk for more information or call 01480 467 567.
Football fans will enjoy fun packed days at Powerleague Enfield. For just £11 a day, children will learn new skills, play games and have lots of fun
8th – 19th April
Great Cambridge Rd EN1 1HQ
Junior Golf Coaching at Bush Hill Park Golf Club
Golf enthusiast can learn how to play golf at Bush Hill Park Golf Club. They will spend the day learning the game and having fun too.
9th – 17th April
Bush Hill Park Golf Club, Bush Hill, Winchmore Hill, London N21 2BU
Children can have amazing action packed football and crazy golf fun at Trent Park. They will play games, and learn new skills too.
8th – 23rd April
Trent Park Football Centre, Bramley Road, N14 4UW
Shows
Join The Dance Studio and watch a spectacular performance with some amazing dancing at Fabulous Feet.
16 – 20 April
Millfield Theatre, Silver St, Edmonton, London N18 1PJ
Pantomime returns to the Dugdale this Easter with Rapunzel. This hair-raising, fun packed traditional pantomime. Featuring song, dance, comedy and loads of audience participation.
Will the Prince rescue his heroine? Will Witcherty Grub be defeated? Will Mary Cherry, the castle cook, bake the cake in time? For answers to all these questions, don't miss the Dugdale pantomime – Oh No You Won't!
Wednesday 3rd – Monday 22nd April 2019
Dugdale Theatre, 39 London Road, Enfield EN2 6DS
The Tales from the Shed team proudly present a brand new show about appreciating your differences, and learning to love the skin you're in. Tyler the tigon was terribly rare. A big cat like him isn't found everywhere. Unique from his ears to his tail to his tum, his dad was a tiger, a lion his mum.
13th – 18th April
290 Chase Side, London N14 4PE
Gifts
Capture special moments with a photoshoot that will give you lasting family memories
Sweet Treats from the Favour Godmother
Buy something different and more personal for loved ones from The Favour Godmother this Easter. She has themed sweet and chocolate bunny and chick gifts and boxes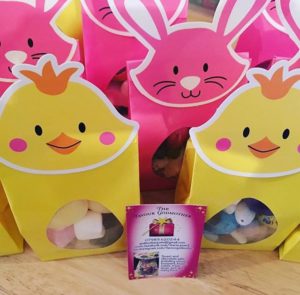 Why not treat your loved ones or indeed yourself to an Easter Hair Pamper Hamper brought to you from The Jungle Shack Ltd.
The Hamper includes everything you need to turn the health of your hair around in just one applied treatment. You can expect to find a turbitowel, a wide toothed comb, some chocolates and a bottle of Holistic Hair Repair Treatment oil.
The 12 natural blend of oils found in Holistic Hair Repair Oil all work together to repair the hair shaft, accelerate growth, prevent shedding, thinning and split ends as well as treat scalp conditions such as psoriasis and dandruff!! The reviews on Facebook @thejungleshackltd really do speak for themselves.